Gospel Center Rescue Mission & Stockton Shelter for the Homeless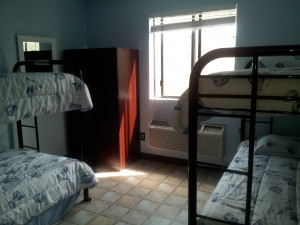 The Leadership Stockton Class of 2012-2013 chose Stockton Shelter for the Homeless and the Gospel Center Rescue Mission for upgrading as their project. The Stockton Shelter for the Homeless project included completely redecorating, painting and installing new flooring in two rooms. The Gospel Center Rescue Mission project included installing new flooring in the common area and dining hall of the facility. Gospel Center Rescue Mission offers food, shelter, safety and a second chance to the homeless and addicted.
The first step in completing the projects was a fundraiser "Strike out Homelessness"  held in December 2012 at Pacific Avenue Bowl.  Chaired by Donnie Hernandez the event included teams from throughout the community.   Underwritten by Farmers and Merchants Bank and ServiceMaster the bowling event raised a total of $12,623.  In addition, the class also was given the opportunity to raise $2,377 at a Stockton Shelter for the Homeless event.
The smell of fresh paint, the special bedspread, sheets and pictures on the wall gives each of us that sense of security and well-being for a good night's sleep. All tucked in with the warmth and feeling of home. This is the environment the Leadership Stockton Class of 2012-2013 endeavored to create for Stockton's homeless families.
It was especially heartwarming to interact with residents of the Stockton Shelter for the Homeless and to experience firsthand their gratefulness for our presence.  The experience was both humbling and inspiring to witness the good work of those who work on a daily basis to provide a safe haven for Stockton's homeless.
Members of the 2012-2013 class were Chanda Bassett, Blain Bibb, Adam Cheshire, Mary Ann Dahl, Teri Fernandez, Angelo Giannini, Nou Hendricks, Alicia Hernandez, Donnie Hernandez, Chris Kay, Roseanna Montez, Shelly Jersey, Scott Rivinius, Tony Sajor, Jr., Katrina Scott, Nate Scott, Jehna Steinwert, Nick Trulsson, Christa Vandarwarka, Candy Vargas, Danny Victoria, Diane Vigil, and Julie Whitehouse.
Click the links Below for the Project Pictures
Strike Out Homelessness Bowling Fundraiser 12-1-12
Stockton Shelter for the Homeless Project